Ethernet Tap
Ethernet Tap is an affordable sniffer for monitoring Ethernet traffic flowing through a single Ethernet connection. The Tap passes the Ethernet traffic through with a delay equal to about 5.2uS.
This sniffer device must be used with the Ethernet Tap plugin.
Connecting Ethernet Tap
To monitor Ethernet traffic, an Ethernet cable that was initially connecting a switch (hub) to an Ethernet device is replaced by two Ethernet cables and the Ethernet Tap is inserted between them, in what is known as a "wedge" fashion.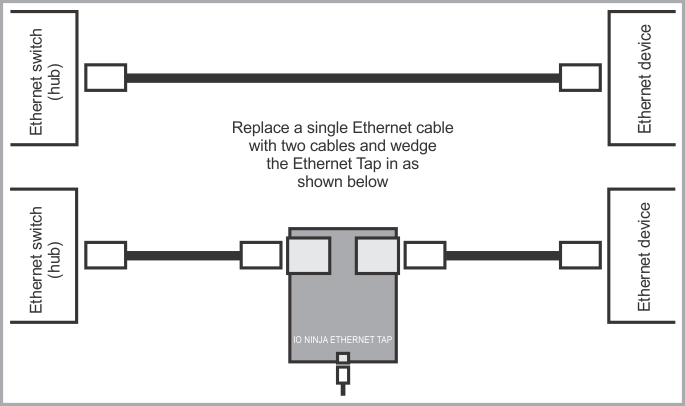 Key Features
Reliably captures 10Base-T and 100Base-T Ethernet traffic.
Based on Intel MAX10 FPGA.
Six LEDs onboard:

Green Ready LED;
Green 100Mbps LED (left RJ45 jack);
Green 100Mbps LED (right RJ45 jack);
Yellow Link/Activity LED (left RJ45 jack);
Yellow Link/Activity LED (right RJ45 jack);
Blue Power LED.

High-speed (480Mbps) USB2.0 interface on a USB-C connector.
Supplied with a USB-C cable.
USB-powered, no additional external power necessary.
Compact, outside dimensions only 82 x 74 x 30 mm.
The product is field-upgradeable via the USB interface.
Hardware Specifications
| Parameter | Value |
| --- | --- |
| USB: | USB 2.0, high-speed (480MHz), USB-C connector |
| Throughput: | Up to 100BaseT Ethernet's real-life throughput |
| Operating temperature: | 0 to +60 degrees C |
| Operating relative humidity: | 10% to 90% |
| Mechanical dimensions: | 82 x 74 x 30 mm |
Documentation