Welcome to IO Ninja
Your One-Stop Terminal Emulator, Protocol Analyzer & IO Monitor

IO Ninja is a professional all-in-one terminal emulator, sniffer, and protocol analyzer. IO Ninja is highly modular and has plugins for most transports and protocols you might come across — network (TCP, UDP, SSL, SSH, WebSockets, etc.), serial (RS-232, RS-485, I2C, SPI, Modbus RTU, etc.), and others (named & anonymous pipes, USB endpoints, J-Link RTT, etc.). IO Ninja is scriptable and allows you to generate packets programmatically, react to incoming packets and other IO events, and create non-standard protocol analyzers.
IO Ninja is your swiss-army knife for debugging communications and a must-have tool for network security experts, system administrators, and all developers who deal with network programming in their line of work.
IO Ninja Is Used At















New HID Monitor plugin for inspecting HID reports sent to and from HID devices (Human Interface Devices)
Regression fixes for the "Find in Log" engine (could miss some valid matches)
Normalize script paths on Windows (to prevent redefinition errors seen on rare workstations)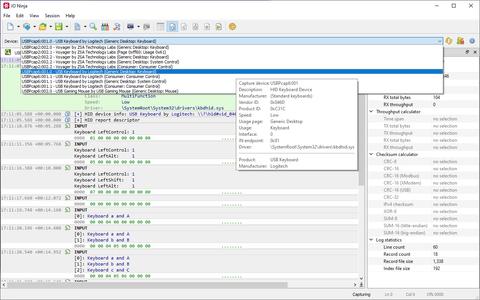 ---
2023-10-05
IO Ninja 5.4.1 is out!
Service release
Critical fix in .msi packages on Windows — io_hid.jncx was missing (the HID plugin couldn't start)
Critical fix in the Hardware Client — informational messages made it impossible to pipe the output of ioninja-hwc directly to Wireshark
Hardware Client can now upload the FPGA firmware (config) to taps using the --firmware switch
---
2023-09-28
IO Ninja 5.4.0 is out!
Major release
New HID plugin for the convenient low-level interaction with HID devices (Human Interface Devices)
Support for high-DPI & mixed scaling on multiple monitors in Windows
Up to x2 speed-up of Jancy script parsing
Multiple criticial fixes in various submodules
---
See also
Hardware Sniffers
---
We proudly present you the three hardware sniffers for IO Ninja. These devices are simple yet functional and convenient sniffers for asynchronous serial links (RS232, RS422, RS485, TTL-level UART), synchronous serial links (I2C, SPI) communications, and Ethernet.
Why You Should Use IO Ninja
---
Interfaces, Transports, Protocols