Introducing IO Ninja
IO Ninja is a professional, scriptable, multi-purpose terminal emulator, network sniffer and IO monitor. It's aimed at network security experts, system administrators, and all kinds of software/hardware/embedded developers.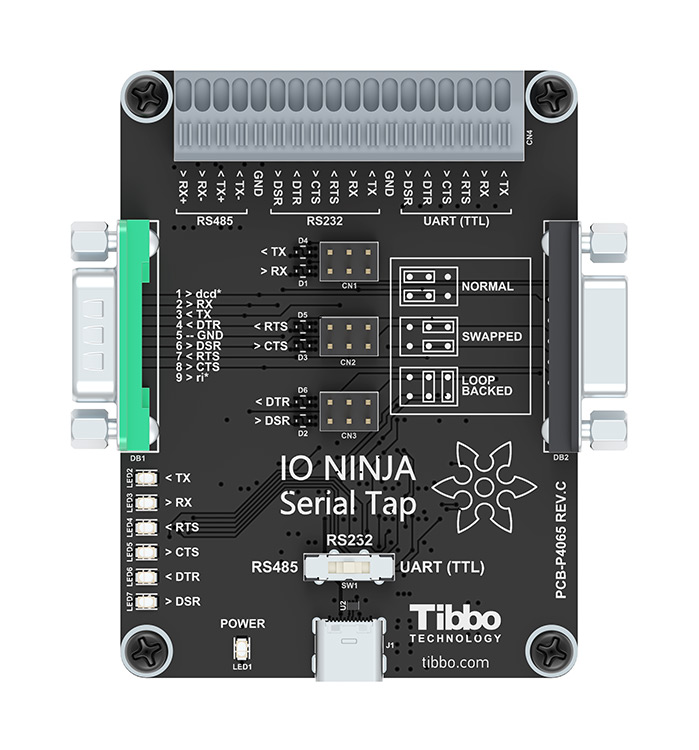 ---
We are proud to introduce the new hardware Serial Tap for IO Ninja. This is a simple yet functional and convenient sniffer for asynchronous serial links (RS-232, RS-422, RS-485, TTL-level UART).
A native support for this sniffer device is provided via the Serial Tap plugin.
---
Major redesign of the Ninja Scroll logging engine

Now it's much more responsive under high-load and with huge (multi-gigabyte) logs due to the fully parallel processing of indexing, representing, converting, searching, etc.

New USB Control Endpoint plugin

Allows low-level communication with USB control endpoint #0 — great for testing and debugging the USB devices under development.

New TX Modifier plugin

Appends prefix and/or suffix, re-transmits with the specified interval, inserts inter-character delays.

New TX/RX Filter plugin

Allows to filter out (exclude) TX or RX streams out of the log — extremely helpful when local echo clutters the view.

Custom serial baud rates

Your wish is our command! As per your requests, we added editable combo-box properties — now you can specify arbitrary baud-rates in all serial-based plugins.

Hung server process detection and termination

Now potential problems with the ioninja-server process should not affect the main GUI process — just terminate a hung session and start a new one.

Unicode support for TEMP path on Windows

Previously, having non-ASCII characters in TEMP (e.g. when your username includes non-English letters) would result in the error: A device attached to the system is not functioning. Not anymore!

Lots of BUGFIXes and other improvements — as usual!

For a full list of changes see changelog.txt (also included in all installation packages).
Serial Communications
Network Communications
File Systems
USB Communications
Performs low-level direct USB control transfer over the USB endpoint #0 on a device.
Performs low-level direct USB data transfers over bulk, interrupt, or isochronous endpoints on a device.
Generic Layers
Platform Features
GitHub Resources
Feel free to inspect, fix and update the official IO Ninja plugins.
Use this public issue tracker to report bugs, suggest new features and discuss the further development of IO Ninja.
Sreenshots