Introducing IO Ninja
IO Ninja is a professional, scriptable, multi-purpose terminal emulator, network sniffer and IO monitor. It's aimed at network security experts, system administrators, and all kinds of software/hardware/embedded developers.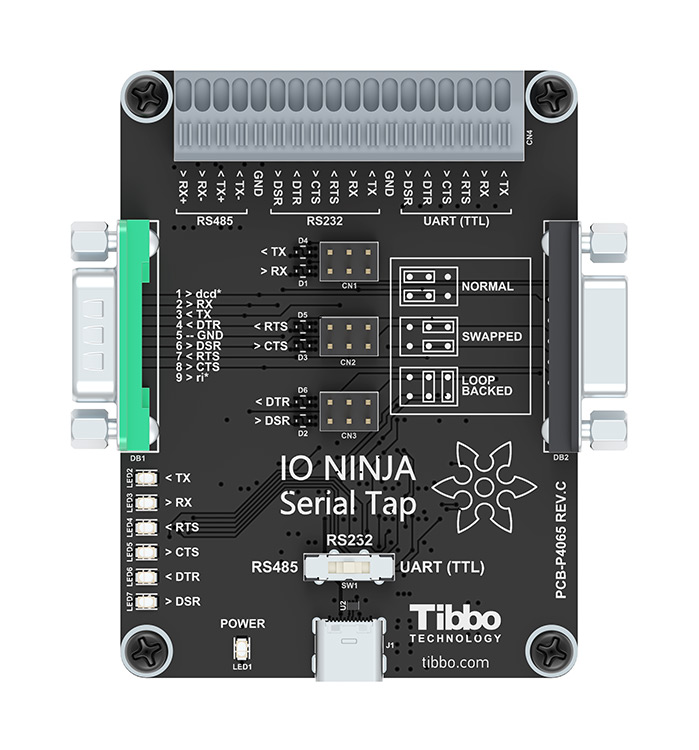 ---
We are proud to introduce the new hardware Serial Tap for IO Ninja. This is a simple yet functional and convenient sniffer for asynchronous serial links (RS-232, RS-422, RS-485, TTL-level UART).
A native support for this sniffer device is provided via the Serial Tap plugin.
---
Script transmit pane

Convenient scriptable transmission is finally here! Now you can write a loop which would keep re-transmitting packets with some delay. Or programmatically set-up a complex packet with a checksum or signature. Or generate packets containing random bytes. Or iterate through a predefined list of targets and send a packet to each one. Or other non-trivial transmission scenarios — you've got the idea.

Redesign of packet templates

Packet templates always was a cool and unique feature of IO Ninja — but the one which only a few knew about and used... This release brings a few significant improvements to the packet template feature which make it easier to find and much more convenient and intuitive. The idea is to copy-paste C-language definitions of packet structs and then edit packet fields using the property grid.

Support for Modbus ASCII & Modbus TCP

Previously, IO Ninja could only handle Modbus RTU. Now, the improved Modbus Analyzer plugin also supports Modbus ASCII and Modbus TCP. It also provides much more polished output (dense vs verbose view, colorized sections of Modbus frames, etc).

Lots of BUGFIXes and other improvements — as usual!

For a full list of changes see changelog.txt (also included in all installation packages).
---
Serial Communications
Network Communications
File Systems
USB Communications
Performs low-level direct USB control transfer over the USB endpoint #0 on a device.
Performs low-level direct USB data transfers over bulk, interrupt, or isochronous endpoints on a device.
Generic Layers
Platform Features
GitHub Resources
Feel free to inspect, fix and update the official IO Ninja plugins.
Use this public issue tracker to report bugs, suggest new features and discuss the further development of IO Ninja.
Sreenshots